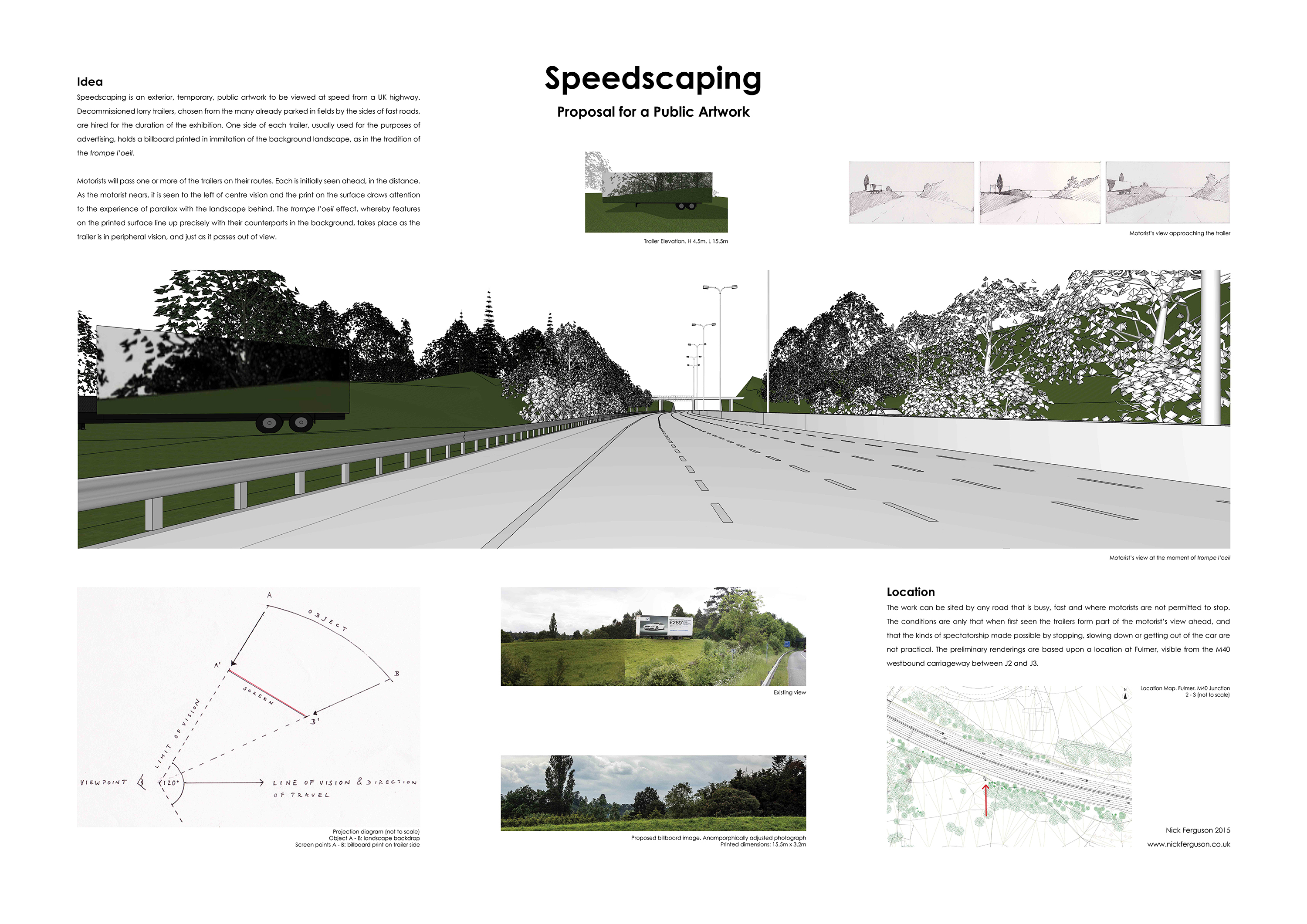 Speedscaping. Architecture for a Fleeting Landscape 
Speedscaping is proposal for a temporary public artwork to be viewed at speed from a UK highway. A decommissioned lorry trailer, one of the many already parked in fields by the sides of UK motorways, is hired for the duration of the exhibition. One side of the trailer, usually used for the purposes of advertising, is printed in imitation of the background landscape in the tradition of the trompe l'oeil.
The trailer is initially seen ahead, in the distance. As the spectator nears, it is seen to the left of centre vision and the printed surface draws attention to the experience of parallax with the landscape behind. The trompe l'oeil effect, whereby features on the printed surface line up precisely with their counterparts in the background, takes place only as the trailer is in peripheral vision, and just before it passes out of view.
The work may be sited beside any road that is rural, busy and fast, and where motorists are not permitted to stop. The conditions are only that it is positioned so that it ordinarily forms part of the view ahead and so that the forms of looking made possible by stopping, slowing down or getting out of the vehicle are not practical.
Exhibits:
1. Proposal Poster. Download proposal poster http://nickferg@nickferguson.co.uk/pdfs/Architecture%20for%20a%20Fleeting%20Landscape.pdf
2. Dorama Model
3, 4, 5. Projection Diagram, Anamorphically adjusted photograph (scaled down) and Fragment (actual size)
N F. 2015
Now there is nothing gives a man such spirits, / Leavening his body as cayenne doth a curry, /As going at full speed. […] For the less cause there is for all this flurry, / The greater is the pleasure in arriving / At the great end of travel – which is driving.   Lord Byron. Don Juan. X, 72.